Sugar Daddy Meet Review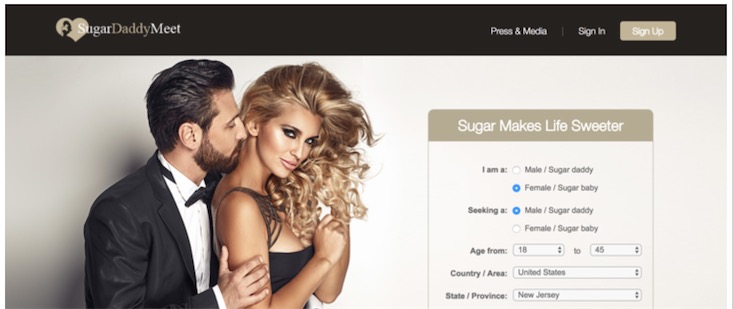 SugarDaddyMeet launched their dating website in 2007. Yet it only has about 110,000 registered users, mainly because they don't serve sugar boys, gay daddies, and sugar mommas. The system also automatically blocks new profiles from developing countries and those who use VPN or proxy server to hide their real locations. Another reason is their membership is too expensive for sugar babies. Both sugar daddies and sugar babies need to pay $50USD for one month gold membership to be able to initiate sending messages. Many sugar babies can't afford the price, except for sugar babies who can live on their own but would like to upgrade their lifestyle if possible.
What's good about SugarDaddyMeet?
Comprehensive system: For 10 years, SugarDaddyMeet has been working on improving its system, to better match you with potential dates that would interest you, to let you take full control of who can see you and approach you, and to detect and block scammers, fakers, and abusive people.
Manual Censoring: SugarDaddyMeet team manually screens all new profiles and photos so inappropriate photos and offensive contents will be removed. Newly registered users can browse around and access all features except that their profiles and photos will be hidden until they are manually approved by SugarDaddyMeet staff.
Free Verification Service: Many sugar babies have verified their profile photos to attract sugar daddies. It is a great feature that sugar daddies would appreciate because they can be sure that what they see are what they get.
Easy-to-use website, mobile site, and mobile apps: SuccessfulMatch, the parent company of SugarDaddyMeet, is one of the world's few companies that create the best dating softwares. The system works well on PC and mobile browsers. The mobile apps are also well-developed and work smoothly.
Customer Service: SugarDaddyMeet does offer Toll Free Phone Support despite that many users complain that they seldom get through. If you send a feedback to them via email, you can expect a response within 1 working day.
Gold Membership Prices For Sugar Babies to Unlock Premium Features
1 Month Premium: $50USD
3 Months Premium: $90USD
6 Months Premium: $144USD
If you purchase gold membership on SugarDaddyMeet app, it will cost you more money. The prices on their app are listed below.
1 Month Premium: $64.99USD
3 Months Premium: $99.99USD
6 Months Premium: $159.99USD
You can log in and upgrade your account on the website or mobile site and then enjoy full access on mobile apps.
By becoming a gold member, you have access to the following functions:
Initiate sending messages to anyone.
See who like you.
Play more rounds of swipes on app.
Unlock advanced search filters.
Browse anonymously.
Summary
If you live in the US and Australia, if you have a job and can afford the gold membership, if you would like to find a sugar daddy and upgrade your lifestyle, if you don't want to compete with college girls, SugarDaddyMeet is the site for you.